Kayaking in Clayoquot and Barkley Sound!

Ucluelet
Ucluelet is the Nuu-chah-nulth First Nations word for "Safe Harbour" and this is certainly true. You can take a guided tour, rent or launch your own boat from a public launch at Seaplane Base Road to explore rivers, waterfalls, bluffs and rich wildlife. Buisnesses listed below offer memorable day or multi-day trips to the Broden Group Island, part of Pacific Rim National Park.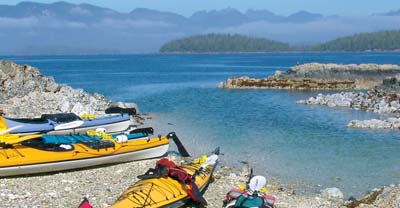 Map #
PADDLING from UCLUELET

_J_

HELLO NATURE 200 Hemlock Street
Ucluelet's Boat Basin Marina

1.844.706.2751 or 250.726.2035
Our guided kayaking & hiking tours range from half-day tours to week-long adventures. Join us in the Broken Group Islands and Clayoquot Sound. No experience needed. 200 Hemlock Street. HelloNature.ca.

Y2

MAJESTIC OCEAN KAYAKING 1167 Helen Road 1.800.889.7644 250.726.2868
Guided kayak tours to the Broken Group Islands and Clayoquot Sound.
Fun for all ability levels. Day trips and all-inclusive multi-day tours. Bear and whale
watching. 28 years of local experience with certified guides. www.oceankayaking.com

PADDLE WEST KAYAKING 168 Fraser Lane at JAMIE'S 250.726.7444
Guided 2.5, 4, & 6 hour tours. Paddle with sea lions in protected harbour waters or feel the exhilaration of an open coast tour! No experience necessary. Excusions from our Tofino location also. paddlewestkayaking.com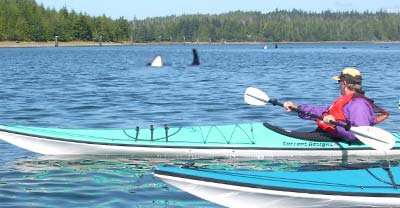 Orcas in Ucluelet Harbour.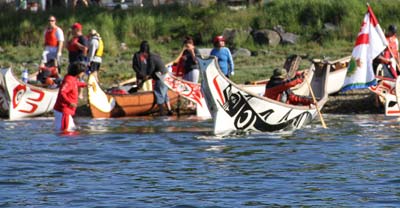 Canoe Quest from Seaplane Base Kayak Launch
Map #
SUP
Highway 4

WESTCOAST WILD Zip-line • SUP 1.877.992.9453
Unique Kennedy River Canyon Zip-line, kayaking and SUP rentals in river canyon. 20 minutes before the highway 4 junction. Also Flight Seeing Charters from Ucluelet Harbour. Arial Whale Watching - Della Falls. www.wcwild.com

Watch our videos!
Tofino
Tofino is a kayaker's dream for paddling among islands and channels to remote beaches, Mearse Island or scenic Tofino Inlet. Clayoquot Sound is world famous for pristine wilderness and abundant wildlife. There is a kayak launch at First Street dock and several business specialize in leading you on safe tours in the best equipment. See below for detais.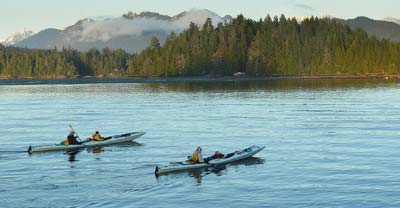 Map #
PADDLING from TOFINO

32

PADDLE WEST KAYAKING.com 606 Campbell 1.877.479.3232 or 250.725.3232
Guided day and mult-day kayak tours to the islands & rainforest surrounding Tofino. Paddle and rainforest hiking tours. Tofino rentals. No experience necessary. See also Ucluelet. www.paddlewestkayaking.com

48


REMOTE PASSAGES SEA KAYAKING 71 Wharf St., Tofino 1-800-666-9833
Guided inlet day paddles. Trainning and equipment included. No experience necessary.
Fun, informative programs. Discounts with a whale, bear or Hot Springs Boat Tour. remotepassages.com

49

TOFINO SEA KAYAKING 320 Main St. tofino-kayaking.com 250.725.4222
1-800-863-4664 Tofino's first Kayak Centre since 1988. Great for new & experienced paddlers. Unique
and authentic kayak tours, no experience required. Kayak Rentals, courses, supplies. Visit our Harbourview Coffee House and retail book store.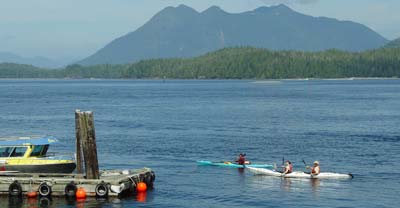 Tofino Inlet has tidal currents to speed your journey.