Pacific Rim National Park Trails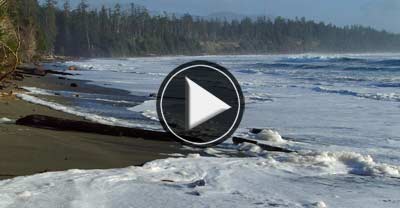 #1 Willowbrae Trail to Florencia Bay
Photo Tip:
INFO:
Warning:
Erroding cliffs present dramatic landslides and sand-covered stones that change with every tide. Best when sun is not strong.
This 2.8 km. round trip trail, traces a portion of the pioneer route linking Ucluelet & Tofino. This wide gravel trail begins from a small unpaved lane marked Willowbrae Road, found two kilometres south of the Tofino - Ucluelet junction. (5 minute drive from Ucluelet). After a few gentle hills the trail is relatively level until the trail splits. Then VERY steep stairs & ramps descend through the rainforest to either Half Moon (a quaint cove) or Florencia Bay (an open, often misty beach). Not a good trail for people unsure of their footing.
Florencia Beach floods on high tides. Plan your walk to allow time to reach an exit, climbing the bluffs is not possible.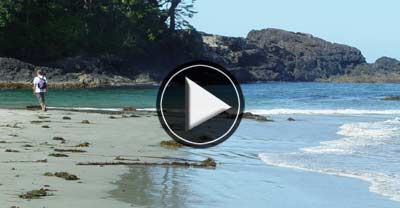 #2 Half Moon Bay Trail
Photo Tip:
INFO:
Caution:
Tropical water colours can be captured here on sunny days. Polarizing filter can cut the glare.
This scenic 500 metre trail branches off the end of Willowbrae Trail 1.7 km from the parking lot. This path is partly boardwalk and partly dirt with tree roots for step stones in wet weather. It is well worth a look if you are sure-footed because it passes through a magnificent stand of large old growth trees. At the coastline ramps and stairs drop you from a high vista to a quaint sandy cove. Note: the final decent is long and VERY STEEP, ending over beach logs that may be difficult for some hikers to cross.
Difficult footing and steep grade just before the beach.