First Nations

Nuu-chah-nulth Peoples of Vancouver Island offer a unique glimpse into the past and an exciting vision for the future. Note during Covid-19, please respect travel restrictions to or through First Nations territories.
Cedar House Gallery, Ucluelet

House of Himwitsa Gallery, Tofino

Eagle Aerie Gallery, Tofino
The Nuu-chah-nulth people have lived on the west coast of Vancouver Island for an estimated 10,000 years or more. Their traditional society lived in harmony with the rich resources of the coastal temperate rainforest. It is estimated that 100,000 people lived on the west coast of Vancouver Island before European explorers spread diseases such as small pox to the villages. Many communities lost more than 80 percent of their population during the 1800's. Much is lost in history due to this population decline, but the artistry, stories, songs and culture live on.
The artistic and cultural richness of this ancient culture is integral to any visit to the area. Follow the links below to learn more, or visit the interpretive centres at Pacific Rim National Park or the Raincoast Interpretive Centre in Tofino when you visit. Many books, carvings and traditional crafts can also be purchased in galleries. Below is a brief overview of recent events, compared to the long timeline of the First Nations People.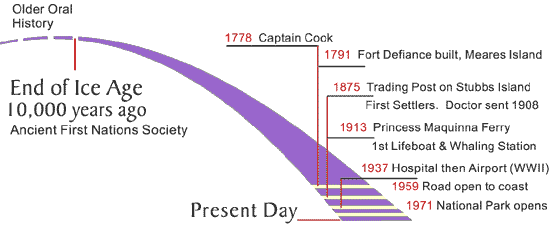 The best place to visit to learn more is the Kwisitis Visitor Centre in Pacific Rim National Park, where you can see artifacts, interactive displays, and an outdoor interpretive trail. In Ucluelet, there is a short interpretive trail at Terrace Beach.
The Clayoquot and Barkley Sound region of Vancouver Island includes the territories of the following First Nations:
Ahousaht First Nation
Gen. Delivery
Ahousaht, BC., V0R 1A0
Phone: (604) 670-9563

Hesquiaht First Nation
Box 2000, Tofino, BC VOR 2ZO
Phone: 250-724-8570

Huu-ay-aht First Nation
Box 70 Bamfield, BC VOR 1BO
Phone: 250-728-3414

Opetchesaht First Nation
Box 211 Port Alberni, BC V9Y 7M7
Phone: 250-724-4041

Tla-o-qui-aht First Nation
Box 18, Tofino, BC VOR 2ZO
Phone: 250-725-3233/34

Toquaht First Nation
Box 759, Ucluelet, BC VOR 3AO
Phone: 250-726-4230

Tseshaht First Nation
Box 1218, Port Alberni, BC V9Y 7M1
Phone: 250-724-1225

Uchucklesaht First Nation
Box 1118, Port Alberni, BC V9Y 7L9
Phone: 250-724-1832

Ucluelet First Nation
Box 699, Ucluelet, BC VOR 3AO
Phone: 250-726-7342
Top