Storm watching from the Wild Pacific Trail!

March 2011, people get very wet but escape injury when waves strike the Wild Pacific Trail
and the lighthouse during hurricane force storm surges. Trails and beaches had to be closed.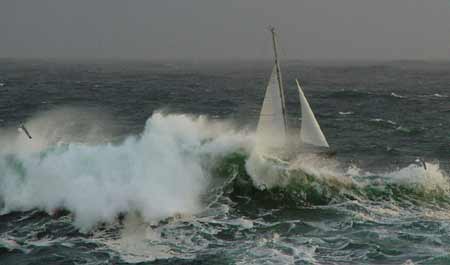 Boating not advised!

This is the WRONG way to watch waves -- please stay off the rocks!

Enormous breakers pound the coast, sometimes sending waves right into the trees.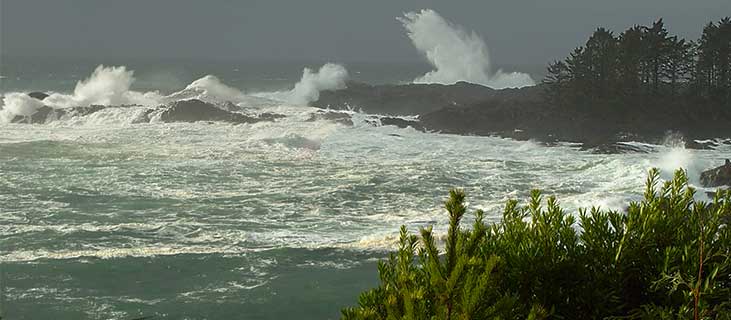 Waves break more dramatically on rocky headlands or reefs.
SAFE viewing spots are the Ucluelet lighthouse / Wild Pacific Trail, the Wickaninnish Interpretive Centre
and trails to South Beach or any path above rocky points (see detailed suggestions below).
Avoid beaches and rocks at this time, waves are faster and stronger than any mortal!
Click here for current and forecasted Pacific storm surf conditions
Ocean-front resorts and restaurants also offer cozy viewing no matter how wild the storms may grow.
Resorts perched above the impressive surf a offer both restaurants and accommodations with great views.
Storm surf on wild pacific trail: 453 kb file.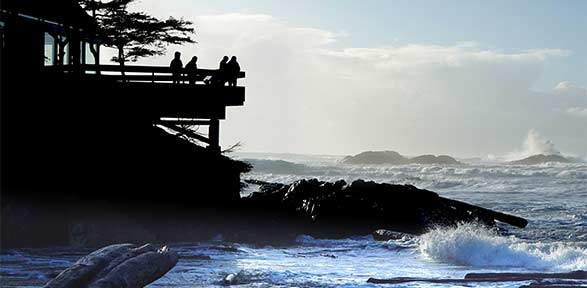 Wickaninnish Interpretive Centre, in Pacific Rim National Park, offers a safe view and shelter from the rain.
Interpretive trail (Trails with more than 1 sign)

Trails to beaches . . . .
Trails in rainforest
Where to see the best waves!

H I K E S

B E A C H E S

Wild Pacific Trail
2.7 km loop, hike in 45 - 55 minutes or just wander part of the trail. Best viewing points are from the Lighthouse at the end of Coast Guard Road, Ucluelet. The trail traces the cliff-edges along the extreme outer coast. Hikers get very close to the huge breakers, but only risk a bit of mist in the face. Link: Wild Pacific Trail official website. WHEELCHAIR accessible at the lighthouse area.


South Beach Trail
1.5 km round trip trail, departs from behind the Wickaninnish Centre, and follows the moss-draped forest fringe of the shore along coves such as Lismer Beach. The trail is level until the boardwalk ascends the headlands for a vista of the coast and access to South Beach itself. This pebble beach is famous for dramatic high waves breaking over the rocks. Beware the waves.


Spruce Fringe Trail
Does NOT have many views of the ocean, but offers a protected hike to Combers Beach and a section of a self guiding nature trail currently closed for repairs. This trail explors the dramatic effect of the ocean's high winds on a Sitka spruce forest. The gentle trail leads you from the parking lot on top of the headland down a hill to the log fringe of the beach where the bent and weathered spruce take a brave hold. The trail leads to a mature forest growing progressively more diverse as the ocean's salt and wind effects grow more remote.


Radar Hill
Panoramic views at a high elevation can be enjoyed from the top of this hill. Formerly cleared for a radar installation during World War II, evidence of foundations can still be seen when climbing the ramp to the view point. WHEELCHAIR accessible. First viewpoint is near the parking lot, the others are up a ramp.

Long Beach
Famous as the longest stretch of surf swept sand on Vancouver Island's west coast. Waves can be easily watched from the parking area. Use caution walking on the beach, large waves can flood the sand and logs even on lower tides. Surf guards are on duty in July and August only. Surfers should contact surf shops in Tofino and Ucluelet for advice on surfing conditions. Beware winter high tides and storm surges!

Combers Beach
Here the confluence of the ocean with a small creek can create very turbulent waters. Great views from the end of the access trail from the parking lot. Beach hikes are not advised during storm waves. (trail access has been closed for the winter due to damage to trail and beach access)

Wickaninnish Beach/Centre
Wickaninnish Beach is at the south end of Long Beach. This area offers trails and viewpoints of storm waves from a safe distance. The Wickaninnish Centre is build right on the surf splashed rocks. WHEELCHAIR accessible.

Florencia Bay
Not recommended for storm watching except from the viewing area above the beach. Numerous logs on this beach are especially dangerous in high waves.

Many resorts also offer great views of the storm surf over rocks and sand. See the accommodation listings for descriptions.

MAP of these areas.

I N D O O R . S T O R M . W A T C H I N G

RESTAURANTS right on the surf: Pointe Restaurant (at Wickaninnish Inn), Long Beach Lodge Resort Restaurant, and further back from the action is Calm Water Dining Room at TinWis Best Western.

LODGING near Tofino, Chesterman Beach and Cox Bay offer great Storm Watching. The most famous resorts are Wickaninnish Inn, Long Beach Lodge and Pacific Sands Resort. Mackenzie Beach, a slightly more protected area, features fine views from Middle Beach Lodge, Best Western TinWis, Ocean Village and Crystal Cove. Of course smaller accomodations are also available on the outside coastline, check the locations on the lodging guide to see best viewing spots. Near Ucluelet A Snug Harbour Inn specializes in Storm Watching and several B&B's are near to the action as well.
Above photo was taken November 15th, 2006 during an especially strong gale to hurricane force storm.

W h a t . t o . b r i n g
Binoculars for wildlife viewing & a cameras for incredible wave pictures.
Seals, sea lions, eagles, migrating and resident birds of many species, deer and much more can also be seen.
Gray whales are common spring through fall. Orcas and humpback whales may also be spotted from the coastline.

Pack to dress in layers. During the winter, it is most often warm, but can become colder when the skys are clear. Carry a light jacket plus a wind/rain shell.

A water bottle & a DAY PACK for some snack foods and a warm top/jacket is a good idea, even on short hikes.

STURDY SHOES not afraid of sand, mud and puddles! Locals favour "gumboots" or duck shoes.

A raincoat is practical, umbrellas are often toys for the wind!

Mild temperatures can be expected year-round. It is very unusual to experience extreme cold or snow. Snow may be seen on the drive in over the pass (good winter tires recommended December - January).
Pacific Rim National Park Info